Carlsbad Caverns
was a surprise to me. We have been in quite a few caves and I thought it would be just another cave. Now I can see why people come from all over the world to see this wonderful place. What makes it different is the size and the way the cave was formed. Most caves are formed by moving water. Carlsbad was formed by acidic water water dissolving limestone. It is like the cave was hollowed out of the rock then decorated over time with the usual
speleothems
by water seeping into the cave. There were not many rock falls that usually litter the floor of the caves I have seen. The walkways and lighting were exceptionally well done. We used the audio guides and were glad we did.
Our first tour was of the
King's Palace
. Thee is an extra charge for this tour. No, we didn't see any pictures or statues of Elvis or speleothems that resembled the King. It was a ranger escorted tour. Our guide, Carrie, was informative and discussed in detailed the history of the cave, its formation, the speleothems, and lots of interesting tidbits about the cave. At one point she turned off the lights. It is an amazing feeling to be in total darkness. During that period I thought about blind people and how peaceful it was once I got accustomed to it. Carrie lit a lighter and showed us how the cave looked to the first explorers because all they had for light was coal oil lamps. Surprisingly I could see quite a bit.
We had a quick lunch at the surface and then toured the
Big Room
, the standard 1.5 hour tour that comes with the park admission charge. We took our time and had most the cave to ourselves. On the trail we were passed by lots of speed walkers. I was surprised that no one was jogging. Carlsbad Caverns is not an easy place to get to. It is pretty much out in the middle of Nowhere so people have to go through quite a bit of trouble and expense to get to it. For people to race through it like it was a mall seems sort of sacreligious to me.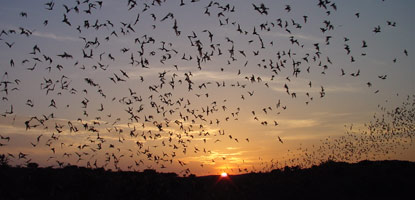 We also enjoyed a ranger slide presentation about the geology of the area. Finally we waited a couple of hours to watch the famous
bat flight
out of the natural entrance of the cave. Almost just as interesting was the return to the cave of the
Cave Swallows
. They circled above then dived at high speeds into the cave. The last swallows entered the cave just a few minutes before the bats emerged. Most of the bats have wisely moved south at this time of the year so the display was not as spectacular as it must be in the summer months. We adopted a bat to support bat research and plan to
build some bat houses
when we get home.
This is a must see attraction. The facilities are getting a little old and dated but I understand that there is a plan to redo and update all the facilities. Right now, as an American, I am a little ashamed that our foreign visitors who have spent tons of money to come this wonder see National Park facilities that are somewhat seedy and actually have a musty smell.